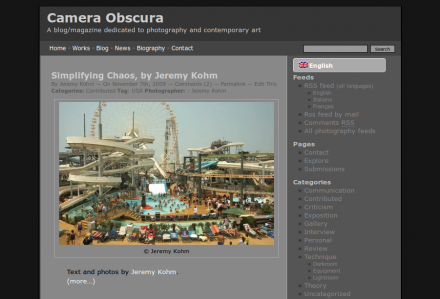 The new layout for CO-mag and it's finally online, please make sure to visit CO-mag to discover all the great new features!
When I created CO-mag I used a gray layout available as a free wordpress theme. One year later I recoded everything creating a minimalist and faster layout, but the visual differences compared to the previous theme where relatively small. The current site layout is a kind of revolution for CO-mag. Here you have an introduction of all the new features:
Improved visual experience. The site is more elegant and professional. Each article has clickeable thumbnails on the homepage, the sidebar, the search pages and any archive. The white background and bigger font make easy to read long articles.
Better navigation. Each post can be classified by category, tag, date, photographer described in the article and post author. You can navigate the site by each of these taxonomies1. The links are at the beginning and at the end of each article. You'll also find previous/next and page navigation links on top and bottom of each page.
Easily find interesting content. If you like what you are reading, there are a lot of chances that you'll enjoy the related articles you can find at the end of each post. Furthermore, in the sidebar available you can find 3 handy lists with the most popular (highest visits), most commented and most recent posts.
Share and socialize. Do you want to share an article? You can find social sharing bottom on each page. As well a more usable subscribe and follow mechanism.
Improved discussion. You post a comment and want to know what other users have to say? You can receive all the future comments in your mail box or subscribe to a single article comments feed. Additionally, CO-mag now supports threaded comments, so it's much easier to follow a conservation.
And tons of other small improvements, full language localization, bugs correction and so on. Hope you'll love it!
So, what do you think of the new CO-mag layout? Your feedback is highly welcome, I'm really interested in your opinion! Is there any additional feature you would like me to implement? Please let me know, and I'll do my best to further improve the new CO-layout.
Enjoy!
This still needs some tweaks, mainly because of wpml plugin problems. Hopefully all the bugs will be fixed soon. [↩]